My husband and I spent a pleasant long weekend in Rehoboth Beach, Delaware earlier this month. We love going to the beach during the off-season, not only because it's cheaper, but because it's a whole lot less crowded; we love being able to find parking and not having to wait for a table at a restaurant. Rehoboth Beach is beautiful in early October and if the weather cooperates, the water is still warm enough to swim.
Because of its proximity to the ocean, the climate is much more moderate than my own in Washington, DC; the summers tend to be a bit cooler and the winters a bit warmer, making the climate ideal for growing hardy palms like
Trachycarpus fortunei
. A few adventurous Rehoboth Beach gardeners have been trying windmill palms and I've been following some of these for several years. But the beach is by no means immune to cold weather and this past winter the palms of Rehoboth Beach were put to the test by the east coast's coldest winter in 20 years.
Washington, DC is mostly
USDA hardiness zone
7a except for a small area of 7b in the urban core and along the Potomac River. Rehoboth Beach is considered slightly warmer, falling within zone
7b. Yet looking at the
official lows
I was surprised by how cold it got there in January, with 3 nights at 5 degrees (F), one night at 2 degrees, and one night at -5 degrees. When temperatures get into the single digits, windmill palms start to show severe damage and temperatures at or below zero for any significant period are often fatal. In Washington, DC my own low was about 5 degrees, with a few more in the 9-11 degree range; the urban heat island seems to have moderated the coldest nights but even so, two of my windmill palms died, and the one survivor was totally defoliated.
It had been a year since our last visit and I was anxious to see how the palms had fared. Most of them did suffer significant damage, and as in Washington, DC,
half or more were killed outright
. But this is a fast-growing species and if a palm survives, it can recover from even total defoliation and re-grow a good crown fairly quickly. The danger is a second cold winter that may kill the survivors in their weakened condition.
Royal Rose Inn
Just two blocks from the beach, I've been following the progress of several palms at the
Royal Rose Inn
(where, ironically, not a single rose grows) since 2007. It has been amazing to see how fast they've grown over the years. After admiring them for a couple of years I knocked on the door and met one of the inn's owners, Greg. Like most gardeners Greg was more than happy to talk about his plants, and we've stayed in touch ever since. I missed him on my latest visit, but was able to get photos of his great palms. Planted on both sides of the sidewalk, these are probably the most visible hardy palms in the area and seem to get
a lot of attention
. I was pleased to see that all the palms in front of the house survived and have recovered well. Oddly enough, two beautiful large, well-established windmill palms behind the house, that have produced flowers
and fruit
in past years, were killed.
Royal Rose Inn, October 2007
Royal Rose Inn, October 2012
Royal Rose Inn, October 2014
Royal Rose Inn, October 2014
Windmill palm, Royal Rose Inn, October 2014
Palms, Royal Rose Inn (photographed October 2012; dead as of October 2014)
Windmill palms (
Trachycarpus fortunei
), St. Edmond's Catholic Church
Not far from the Royal Rose Inn, two windmill palms flank a side entrance to
St. Edmond's Catholic Church
. I'm not sure how long they've been there, but they went through this past winter without protection. Proximity to a large building makes a huge difference but despite this extremely favorable location, one of them was badly damaged and has struggled to recover whereas the other is doing quite well. This disparity is similar to what I saw at two different locations in Washington, DC where one of a pair of palms exhibited very different recovery from its companion (see
Washington windmill palm winners (and losers)
). Whether this is due to genes or other reasons, or just plain luck, I can't say.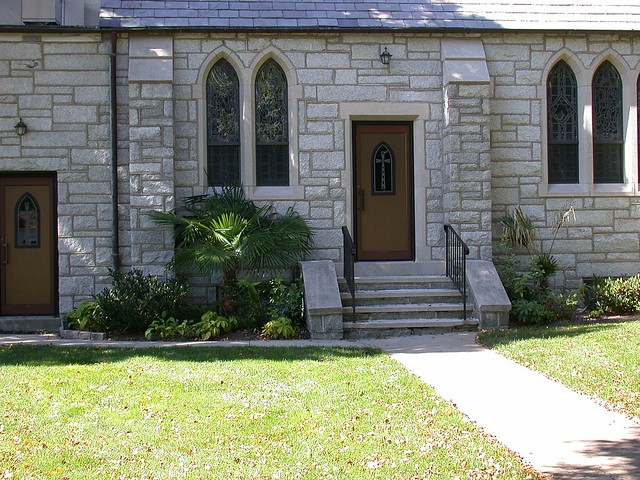 Windmill palms (
Trachycarpus fortunei
), St. Edmond's Catholic Church
Windmill palms (
Trachycarpus fortunei
), private garden
A little farther inland I visited the garden of my friend Mark. Mark is one of the pioneers of hardy palm growing in the Washington, DC area, having planted in 1994 a now-infamous windmill palm in Sterling, Virginia that is one of the oldest and tallest examples of the species in the entire Washington, DC area (all the more remarkable for growing so far outside the Beltway and urban heat island). More recently Mark has planted numerous windmill palms, in addition to many other rare and unusual plants, at his home in Rehoboth Beach. Mark lost several of his palms to the past winter, and the survivors were badly damaged but have recovered well. Probably not coincidentally, the survivors were the ones planted closest to the house; palms planted just a few yards farther out died.
Windmill palms (
Trachycarpus fortunei
), private garden
Windmill palm, private garden
Ripening pomegranate, private garden
Pineapple sage, private garden
Sabal minor
, private garden
Rehoboth Guest House
And finally, although there were no hardy palms, an honorable mention goes to the place where we stayed,
Rehoboth Guest House
, both for for their hospitality and their wonderful garden. This was our first time staying there in a very long time, having been regulars in the late 1990's and early 2000's. Back then the yard behind the house, while pleasant enough, was uninspired at best. Recently under new owners, and undergoing renovation and general upgrades, the new innkeepers, Steve and Tom, have planted the yard with tropical palms, bananas, cannas, elephant ears, and colorful annuals. I can't overstate how much more pleasant and welcoming this makes the yard... but I don't envy their job when the growing season ends and all those plants have to be dug up or cut down!
Rehoboth Guest House (view from deck)
Rehoboth Guest House
Rehoboth Guest House
Rehoboth Guest House, outdoor showers
Rehoboth Guest House, ready for Halloween!
For more photos of Rehoboth Beach, from this trip and previous ones:
Rehoboth Beach October 2014
Rehoboth June 2013
Rehoboth/Lewes October 2012
Rehoboth October 2009